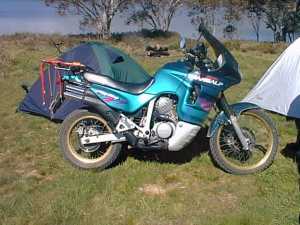 Transalp Vs Dominator
The following are my thoughts and reflect my riding style, experience and the type of riding I do. I realise that all bikes are different and all have strengths and weaknesses. I have also learnt that a good rider can ride *any* bike over any roads quicker than an average rider on a purpose built bike. I class myself as an average rider :-)

I owned my Dominator for a little over 3 years. During that time it was used predominately for travelling to and from motorcycle rallies on weekends. It wasn't used for commuting. As I already owned a Honda ST1100, I wanted a bike that was capable of travelling 500-600kms a day on more dirt roads than tarred, in reasonable comfort, carrying camping gear. Most of the time the bikes I travelled with were larger - BMW R1150GS, Africa Twins and BMW R100GS. While they were better suited on the road, the Dominator was usually better off-road because of its lighter weight. I liked the Dominator but decided I wanted a bike that would be better on the road without losing too much off road. While I looked at bikes like the R100GS, I'm not a mechanic and love the reliablity of the Japanese bikes - particularly Hondas. If the 750 Africa Twins were sold in Australia I probably would have bought one of them. However, they're not, and the opportunity of purchasing a good Transalp came about.
1st November, 2001
Purchased a 1995 Honda XL600V Transalp in Sydney. The bike had been privately imported into Australia from Ireland by the previous owner. Transalps were only sold in Australia by Honda from 1987 to 1988.
The next day, I rode it home to Cowra (350kms west of Sydney).

Initial impressions:

Seat: bigger, thicker, but softer padding compared to the Dominator
Riding Position: very similar; wider (larger 18l V 16l) tank on the Transalp and wider body work because of twin radiators; much easier to damage 'plastic' in a fall. Many parts shared with Dominator - indicators, front wheel, brakes and suspension(?), headlight, and handle bars. The extra weight of the Transalp (159kg V 183kg) is not noticable.
On the Road: V-Twin of Transalp, although smaller in capacity (583cc V 644cc), has much more low end torque and tractable motor. I found that the Dominator had nothing much below 4000rpm. The Transalp pulls from below 3000rpm and is red-lined higher at 9000rpm. The Transalp revs higher at similar speeds compared to the Dominator - 100kph is just below 5000rpm. In short, the Transalp is superior on the road.

6th December, 2001
I have covered nearly 4000kms on the Transalp, ranging from city driving, to freeway, to extremely difficult mountain trails, and covering up to 700km in a day. While for some people, the extra weight of the Transalp might be noticable in extreme conditions, I haven't noticed any difference.
I love the Transalp. It is better on the road, handles better through corners (no wallowing) and is more comfortable on a long trip.
Other noticeable advantages so far have been:
doesn't use oil - probably due to higher tolerances in the motor because of water cooling.
starts easier - just wave my thumb near the starter button and it starts - hot or cold!
the taller screen offers greater wind protection on the open road

Disadvantages so far have been:

more exposed body panels to break if dropped - needs crash bars which are available
higher fuel consumption - maybe 1 or 2 km less per litre
plastic sump guard could be a problem - none so far

I just returned from a 2000km+ trip over four and a half days and a report can be read by clicking here
| | |
| --- | --- |
| | |

Links

OzDOM - Australian Honda Dominator Owners Club



Visitors to this site

&copy2001-04 Craig Sinclair.